July 14, 2020
Dear Azzad Funds Shareholder,
The second quarter of 2020 posted the best quarterly performance for stocks since 1998, with major benchmark indexes making sizeable gains over their historically poor first-quarter tallies. Much of the second-quarter growth in the stock market and economy was a bounce back from a dismal March and April when pandemic-related lockdowns and restrictions virtually shut down the economy. Nevertheless, stocks rose as investors focused on favorable economic data and the possibility of further government stimulus, despite rising virus cases and tepid trade relations with China.
The quarter's performance highlighted a persistent theme that started when the coronavirus pandemic captured headlines: The stock market has continued to rise despite reports of a crumbling economy and slumping corporate earnings. During the second quarter, the median estimate for S&P 500 companies' earnings per share declined by 37% while the index gained nearly 20% in price, according to data from FactSet.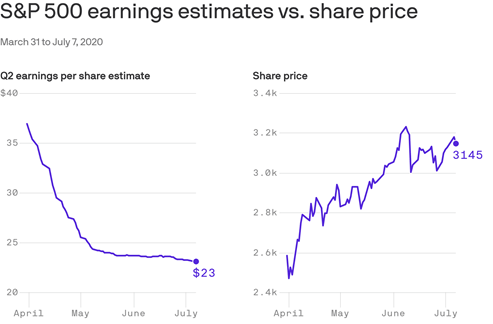 This points to a market environment that is relying on the government to maintain elevated prices. How long can that last? Many believe this unusual reality will continue for as long as fiscal and monetary policy continue to support prices. Investors are counting on Congress to pass a new $1 trillion-plus coronavirus relief bill in the third quarter, and most seem confident the Federal Reserve will continue to supply markets with liquidity through its unlimited quantitative easing and corporate bond-buying programs should stock prices fall.
The rally in global fixed income, which began at the end of the first quarter, continued through the end of June. The second quarter saw sharp price appreciation across most asset classes with Islamic financial securities being no exception. Sukuk profit rates continued to tighten. This has been driven by a coordinated global effort. Monetary authorities on every continent continue to intervene by flooding the market with liquidity, while their corresponding governments are launching repeated fiscal stimulus packages to soften the effects of the first quarter stand-still.
We anticipate that market volatility is likely to remain elevated in the U.S. and beyond until we have greater clarity on the COVID-19 pandemic and the potential impact on economic growth. We continue to favor the importance of maintaining a longer-term view, as short-term, reactive decisions can impair a prudently designed investment plan anchored to long-term goals, time horizon, and risk tolerance.
Thank you for your continued trust and investment,

Joshua A. Brockwell, CSRICTM
Director, Investment Communications
The performance quoted below represents past performance, which does not guarantee future results. This summary represents the views of the Azzad Funds portfolio managers and sub-advisers as of June 30, 2020. Those views may change, and the Funds disclaim any obligation to advise investors of such changes. Forward-looking statements are subject to uncertainties that could cause actual developments and results to differ materially from the expectations expressed. The Azzad Funds are self-distributed and available by prospectus only. A free copy of the prospectus, which contains information about the Funds' risks, fees, and objectives, and other important information, is available at www.azzadfunds.com/prospectus or by calling 888.350.3369. The Dow Jones Industrial Average (DJIA) is a price-weighted index composed of 30 widely traded blue-chip U.S. common stocks. The S&P 500 is a market-cap weighted index composed of the common stocks of 500 leading companies in leading industries of the U.S. economy. The NASDAQ Composite Index is a market-value weighted index of all common stocks listed on the NASDAQ stock exchange. The Russell 2000 is a market-cap weighted index composed of 2,000 U.S. small-cap common stocks. The U.S. Dollar Index is a geometrically weighted index of the value of the U.S. dollar relative to six foreign currencies. The ICE Bank of America Merrill Lynch 1-3 Yr. U.S. Corporate & Government Master Index tracks the performance of U.S. dollar-denominated investment grade government and corporate public debt issued in the U.S. domestic bond market, excluding collateralized products. The Russell MidCap® Growth Index measures the performance of the mid-cap growth segment of the U.S. equity universe. It includes those Russell MidCap® Index companies with higher price-to-book ratios and higher forecasted growth values. Market indices listed are unmanaged and are not available for direct investment.
Azzad Ethical Fund (ADJEX)
The Azzad Ethical Fund returned 29.36% during the second quarter of 2020, underperforming the 30.71% advance of the Russell MidCap® Growth Index in a quarter which saw markets rebound after a -19.96% decline in the Russell MidCap® Growth Index in the first quarter. The Technology Services and Electronic Technology Sectors (9.80% and 4.83% portfolio contribution to returns, respectively) contributed most to overall performance while Non-Energy Minerals and Industrial Services (0.02% and 0.29% portfolio contributions to returns, respectively) contributed the least. 
Etsy, the online marketplace which offers handmade products like shoes, clothing, bags and accessories, and Twilio, which helps develop communications software and cloud-based platforms, provided the Fund with its strongest returns. Etsy benefited from demand for online retailers as consumers shopped from home during the COVID-19 lockdown. Twilio benefited thanks to demand for services like contactless delivery, distance learning and telehealth.
Other Fund holdings performed less favorably in this environment. ICU Medical, which develops, manufactures and sells innovative medical devices in vascular therapy and critical care applications, and Spirit AeroSystems, a manufacturer of aircraft components, were the largest underperformers in the Fund in the second quarter. Along with its peers in the aviation industry, Spirit AeroSystems faced significant coronavirus headwinds. The company was also impacted by Boeing's temporary suspension of its 737 MAX, an aircraft for which Spirit AeroSystems supplies parts. ICU Medical suffered declines in its stock price after a voluntary product recall.
Top Contributors to Portfolio Return (3/31/2020 to 6/30/2020)
| | | | | |
| --- | --- | --- | --- | --- |
| Holding | Average Weight | Beginning Price | Ending Price | Total Return |
| Etsy, Inc. | 0.58 | 38.44 | 106.23 | 176.35 |
| Twilio, Inc. Class A | 0.90 | 89.49 | 219.42 | 145.19 |
| Square, Inc. Class A | 1.47 | 52.38 | 104.94 | 100.34 |
| Hologic, Inc. | 1.42 | 35.10 | 57.00 | 62.39 |
| DexCom, Inc. | 1.72 | 269.27 | 405.40 | 50.56 |
Top Detractors from Portfolio Return (3/31/2020 to 6/30/2020)
| | | | | |
| --- | --- | --- | --- | --- |
| Holding | Average Weight | Beginning Price | Ending Price | Total Return |
| ICU Medical, Inc. | 0.10 | 201.77 | 184.31 | -8.65 |
| Spirit AeroSystems Inc. Class A | 0.11 | 23.93 | 23.94 | -7.40 |
| Carlisle Companies Incorporated | 0.91 | 125.28 | 119.67 | -4.03 |
| Ingersoll Rand Inc. | 0.01 | 24.80 | 28.12 | -3.30 |
| Extra Space Storage Inc. | 0.29 | 95.76 | 92.37 | -2.64 |
Azzad Wise Capital Fund (WISEX)
The Azzad Wise Capital Fund returned 4.10% for the first quarter of 2020, outperforming its benchmark, the ICE BofAML 1-3 Yr. U.S. Corp. & Govt. Index, which returned 1.22%.
Despite intermittent equity volatility and government interest rates rising and falling on infection and mortality data, optimism was the order of the day throughout the quarter for fixed income.
During the period, most government issuers of sukuk turned to conventional bond markets as they grappled with the impact of low oil prices and tight budgets. Ultimately, this lack of new supply coupled with investor demand, created a positive environment for sukuk holders.
According to Fund sub-advisor Federated Investment Management Company, top holdings contributing to the Fund's return included Oman sovereign 2025s, which rallied back from the lows at the end of first quarter on the increased likelihood of further financial aid from Gulf neighbors. The high yield 2023 sukuk from Saudi real estate developer Dar Al Arkan saw a strong rally from its first quarter lows driven by the positive market environment mentioned earlier. High-quality defensive sovereigns such as Ras Al Khaimah's 2025 sukuk and the KSA 2029 sukuk saw meaningful appreciation as investors eagerly piled into bellwether names that sold off in the first quarter. While no sukuk contributed negatively to returns in the quarter, high-quality issuers such as the Islamic Development Bank and short-dated (less than a year) sovereigns contributed only slightly due to little price movement.
The Fund's allocation to Islamic trade finance grew in the second quarter thanks to a new project with the government of Djibouti. The allocation to Islamic bank deposits has decreased compared to the start of 2020. Profit rates have followed the collapse in reserve currency government yields. Rather than continuing to roll deposits forward at these low levels, Federated has rotated into short-dated senior sukuk issued by correspondent banks at a modest profit pick-up.
Looking ahead, Federated remains cautious about the broader global economy. There is still no vaccine for COVID-19, and the scale of the damage done by the virus remains to be seen. They expect heightened market volatility to continue as investors balance weak economic data with supportive central bank policy and speculation around the duration of the pandemic. Many uncertainties remain regarding the political will to extend fiscal relief in both the E.U. and the United States. This is further clouded by the upcoming U.S. elections and its impact on economic policy.
The Islamic finance market presents no less of an unclear picture in their view. Given shocks to the economic environment and rapid change in market conditions, they are concerned about increased credit risk. While they remain optimistic about positive market technicals, ample central bank liquidity, and fiscal stimulus providing support for some sukuk issuers, history shows that these dynamics can quickly change, reversing market momentum and sentiment sometimes overnight. Caution is the predominant thought as they enter the third quarter.