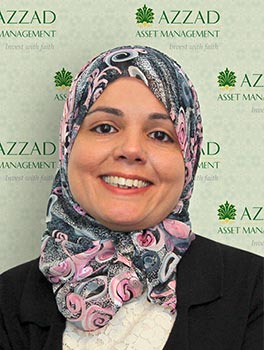 Manal Fouz serves as the Chief Compliance Officer.
She has her bachelor's degree in communications specialized in journalism from George Mason University, 1996.
She has served as Operations Manager for Azzad since 2003 and Chief Compliance Officer since 2007.
She has attended and completed numerous compliance training seminars and conferences hosted by the SEC, Investment Company Institute (ICI) and others.
Ms. Fouz is a member of the NSCP (National Society of Compliance Professionals).
Ms. Fouz is a shareholder and investor in many of Azzad's investment portfolios including the Azzad Mutual Funds.
She enjoys running for charitable causes, traveling around the world and spending time with her family.
Please download and read Manal's ADV Part 2B form.