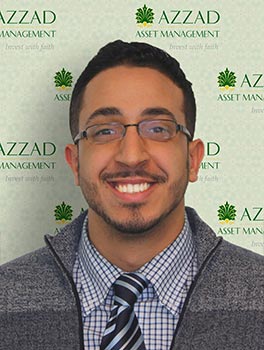 Ehab Alalfey, Azzad Investment Advisor
I have been around the wealth management industry for as long as I can remember. I recall helping my father, an immigrant to this country, with his work as a junior advisor at a practice in Maryland when he was just getting started. I would help him when I was a young teenager, going to the office on the weekends to file documents, mail out birthday cards, or whatever else was needed. English was not his first language. His colleagues would often poke fun, underestimating him and assuming that he wouldn't do well. When times were tough for his employer, there was even a bet in the office that my father would be the first employee fired. He ended up being the best performer two years in a row and was a standout at the firm. His skill and expertise ultimately led him to start his own practice. I did not appreciate it at the time, but his work ethic stood out and has stuck with me to this day.
After graduating high school, I started working for my father's firm while going to college. In between classes and studying, I was able to pass my Series 7, Series 66 and the State Health and Life examinations at age 18, all while not knowing yet what I wanted to do with my life. Working at the firm, I saw firsthand what a successful financial advisor looks like. I always assumed it was the one who had the most knowledge, the most education, the most certifications, which are all significant but not the most important. Considering their qualifications, his partners should have been better than my father, but they were not. For a while, I couldn't put my finger on why. Meeting after meeting, experience after experience, I finally identified a pattern. It was trust. His clients had the utmost trust with my father. Whenever there was a crisis, he was the first to be called. Before any big financial decision was made, he was the first to be consulted. He took the time to get to know his clients on a personal level. He identified their needs and wishes and serviced them accordingly.
I still didn't know at the time if I wanted to be an advisor because I always thought I was not making an impact or helping to make the world a better place. I assumed that I would just be helping the rich get richer. I see now that this was a misconception. A good financial advisor who keeps the clients' best interests at heart provides peace of mind, helping others work towards financial freedom. And the great ones do it ethically and responsibly.
Whether a client has $100,000 or many millions of dollars, they have worked extremely hard and sacrificed to get to that point. I see now that financial advisors have the responsibility to help them reach their goals. Financial goals vary from client to client, everything from just making sure they live a comfortable life in retirement to taking care of loved ones after they pass to prioritizing noble philanthropic goals. With these reflections and experiences, my perspective changed. It is a privilege to serve them and to honor the trust they put in us.
Featured articles: