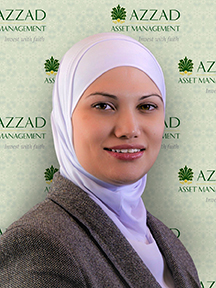 Reem Hussein, CFP®, Ph.D. is associate financial planner with Azzad Asset Management. She graduated from Texas Tech University with a Ph.D. in financial planning as well as a master's in financial planning. She also holds a Graduate Certificate in Charitable Financial Planning from Texas Tech.
After obtaining a masters degree in Business and Finance, Reem worked in academia for several years, then she pursued a master's degree in applied economics at Southern Methodist University in 2010. Reem then worked in the healthcare sector and was promoted to finance manager. Prior to joining Azzad, she worked in the financial services industry as a financial planner at Fortune 100 and Fortune 500 companies, including Prudential Financial and Mass Mutual.
Reem still has a strong connection to academia. She is a faculty member at Shepherd University, teaching courses on financial literacy and financial well-being. Her research is focused on end-of-life planning and was recently published in Financial Services Review Journal. She cites her continued involvement in academia as an advantage in business as it keeps her up to date on the latest research and advances related to personal financial planning.
Reem lives in the Dallas-Fort Worth area with her husband and children. She enjoys spending time with her family and traveling when time allows.