AZZAD FINANCIAL ADVISOR SOLUTIONS
A co-advisory agreement with Azzad can open new client opportunities for your practice.
Many financial advisors end up spending more than half their time on investment management and business development, which can make it difficult to focus on relationship building and financial planning for your clients.
For advisors interested in tapping into a growing and under-served market — American Muslims — we're offering an opportunity that will help you reach new clients and provide them with the authentic Shariah-compliant investment products they want.
Azzad is one of only a few asset managers in the country that offers halal-screened investment portfolios, and we provide them in more asset classes than any other U.S. firm. Being able to deliver these high quality investments along with the other unique services included in the agreement will give you an edge with observant Muslim clients.
The co-advisory agreement is available to independent advisors across the country who want to offer Azzad's halal investment products to clients.
As part of the agreement, Azzad will provide:
Marketing and lead generation
Investment products
Portfolio management including trading
Financial planning software and other technology solutions
We provide you with client leads and the investment products to meet their needs. You provide them the personalized advice and guidance for their financial journeys.
TRADING AND INVESTMENT MANAGEMENT
Our multi-manager strategy offers portfolios made up of 10 strategies managed by specialists in their respective asset classes.
We maintain model portfolios in these asset classes: large-cap growth and value, mid-cap growth and value, small-cap growth and value, international, REITs, and dividends. We also offer a unique alternative fixed-income fund that doesn't deal in interest to comply with the Islamic prohibition on interest.
These portfolios make up our five asset allocation portfolios that you could subscribe your clients to:
Interested in learning more? Send us a note or give us a call and we'd be glad to chat with you about our products, the co-advisory agreement, the nuances of working with Muslim clients, and how to reach Muslim clients where you work.
Contact Joshua Brockwell to learn more about the co-advisory program. You can email joshua[at]azzad.net or call 571-551-6865.
MARKETING AND LEAD GENERATION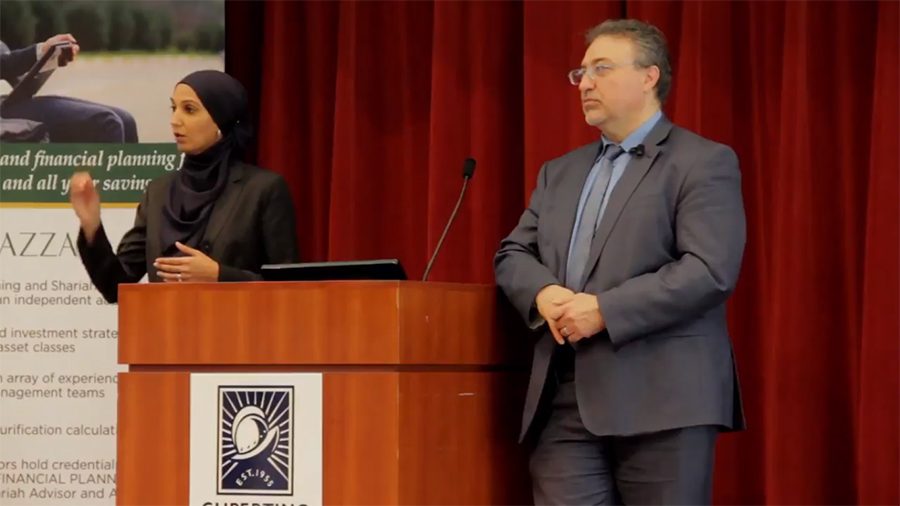 We give presentations and investing workshops for Muslim communities around the country on a regular basis. As part of the co-advisory agreement, we would conduct join workshops with you at mosques or community centers in your area to introduce you to potential clients who are motivated to invest according to Islamic criteria.
We'll also provide you with marketing tools and sales materials to help prospects understand the unique value we offer.
SHARIAH GOVERNANCE & COMPLIANCE
As a halal investing firm, Azzad follows screening rules established by AAOIFI, the Accounting and Auditing Organization for Islamic Financial Institutions. AAOIFI includes scholarly opinions from several Muslim schools of thought and is generally considered to be the gold standard for Islamic finance rules.
Following AAOIFI investing rules means we screen out companies that profit from interest, alcohol, tobacco, gambling, adult entertainment, insurance, and weapons. We also look at companies on a case-by-case basis and exclude some for human rights abuses or operating in an area of conflict. We remove companies with high debt ratios.
In addition to following the screening rules, we have three layers of Shariah compliance as required by AAOIFI: an internal Shariah auditor, an active three-member Shariah advisory board, and an independent auditor.
Internal Shariah auditor: Azzad's CEO and founder, Bashar Qasem, is a Certified Shariah Advisor and Auditor (CSAA). This certification is conferred by AAOIFI and denotes a high level of knowledge about Islamic finance and investing. Bashar is one of only a handful of people in the U.S. to hold this certification.
Shariah advisory board: In accordance with AAOIFI requirements, Azzad has an active three-member Shariah advisory board, which meets quarterly to to review our portfolios' religious restrictions and criteria. The board provides religious guidance in accordance with the AAOIFI standards. You can learn more about our Shariah advisory board here.
Independent auditor: Azzad hires an independent auditor to evaluate our internal Shariah verification procedures and test all of our transactions for the previous year. The UK-based Islamic Finance Advisory and Assurance Services (IFAAS), which follows AAOIFI guidelines, performs this service each year.
One service Azzad offers that adds a lot of value for observant Muslim clients is calculating purification and zakah on investment accounts. In some cases, purification and zakah calculation has been the deciding factor in a client's decision to invest with Azzad.
PURIFICATION
Sometimes it's not possible to know exactly where all of a company's revenue comes from, or a very small percentage may come from the impermissible sources that we screen for (alcohol sales, interest income, etc.),
Because of this, Muslim investors should "purify" their investments by donating to charity the small amount that may have come from impermissible sources.
ZAKAH
The third pillar of Islam, zakah is obligatory charitable giving. Every Muslim who owns wealth above a prescribed amount is religiously obligated to give 2.5% of their accumulated wealth to the poor and needy each year.
In Arabic, the word "zakah" comes from a root that means "purification," which can sometimes cause confusion for people who are only familiar with zakah. However, in investing, purification is different from zakah. AAOIFI requires both for investments to be considered halal.
We can train you in the basics of purification and zakah for different kinds of investments so you can talk with your clients about it. And we will remain available to answer case-specific questions from your clients on this topic — another added value of a co-advisory agreement with Azzad.
ANNUAL STATEMENTS
Azzad calculates purification and zakah once per year on our Muslim clients' accounts and provides them with statements with the amounts. Clients may then distribute their donations as they choose.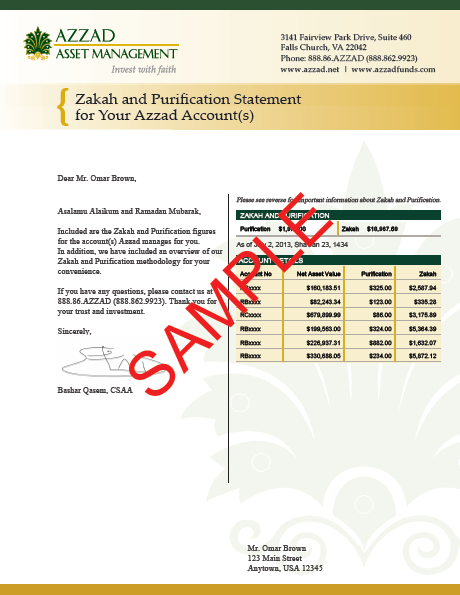 A sample zakah and purification statement. We provide one each year to Muslim clients who wish to receive them.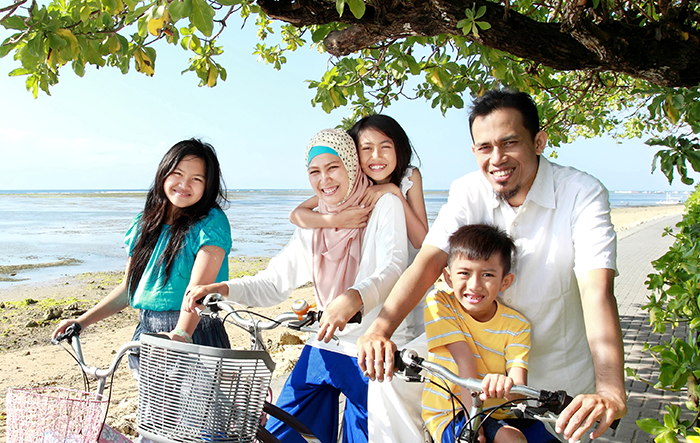 Demographers generally estimate the U.S. Muslim population to be between 3 and 7 million. A 2013 estimate from Dinar Standard put the disposable income of American Muslims at $98 billion.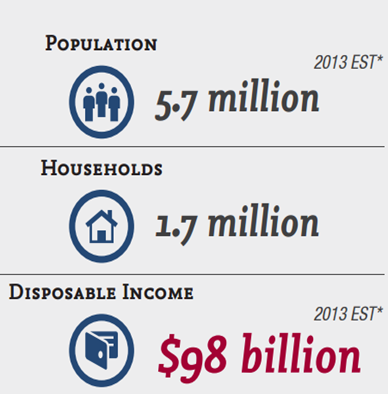 A 2017 poll by the Pew Research Center found that:
Muslims are as likely (24%) as the U.S. general public (23%) to have incomes over $100,000.
Muslims are nearly as likely (43%) as the U.S. general public (46%) to rate their financial situation as "excellent" or "good."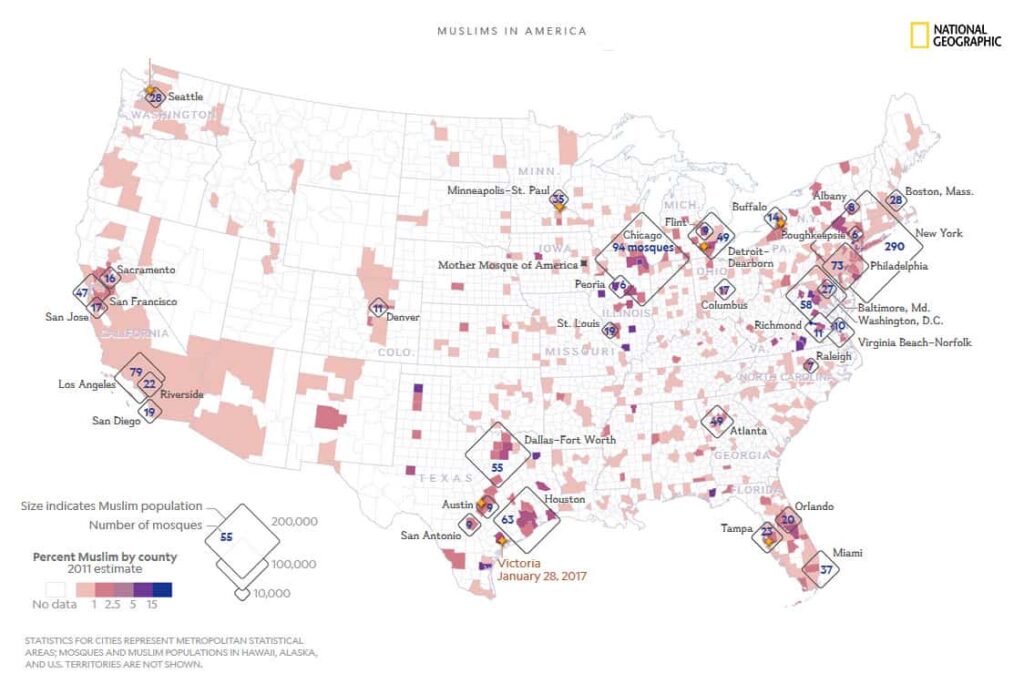 Source: National Geographic, 2018
Muslims live in every state in the country, with larger concentrations of households in certain areas.
This map shows concentrations of Muslim populations in the U.S., especially in California, Florida, Texas, Illinois, Michigan, and on the east coast from Northern Virginia to Boston.
But don't think Muslims live only in cities. Based on our nearly 20 years in the business, we can tell you that rural parts of the U.S. sometimes hold great potential for finding Muslim financial advisory clients, thanks to pockets of Muslim professionals (for example, physicians) who choose to locate there for a variety of reasons.
$2 TRILLION GLOBAL OPPORTUNITY
The American Muslim market's unique opportunity is part of a fast-growing Muslim lifestyle economy representing $2 trillion in consumption (Dinar Standard, 2013).
The biggest drivers of growth are:
Ethical finance
Halal-certified food
Modest apparel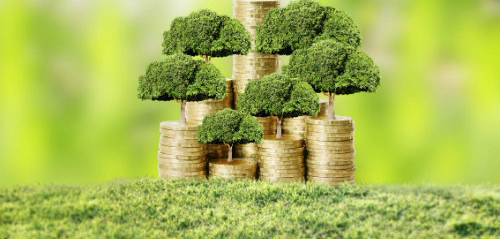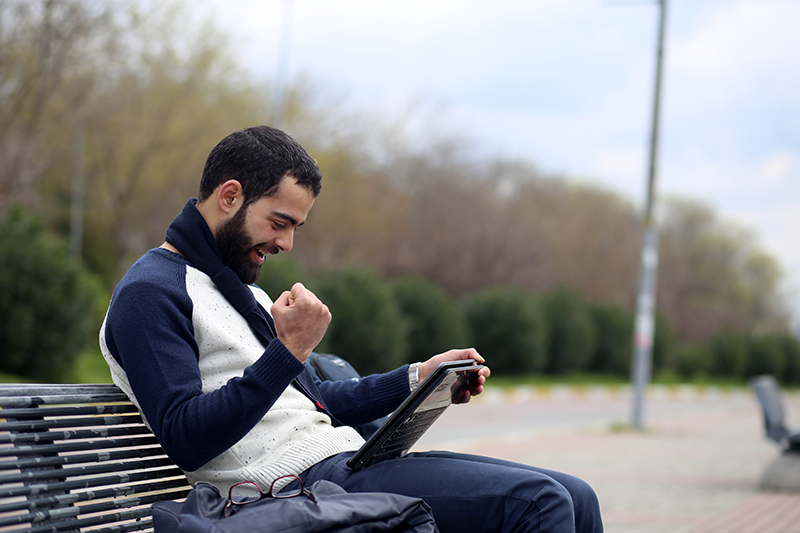 From Ogilvy Noor, the Muslim-focused division of marketing agency Ogilvy & Mather: "Although the global Muslim population is vast and set to grow, our own research has identified one particular segment within it that is driving consumption. … They have one defining paradigm: they believe that faith and modernity go hand in hand and there is no compromise or contradiction between the two. "Faithful, worldly, creative, optimistic and tech-savvy, this is a group that is digitally connected, not afraid of expressing themselves, proud of their Muslim identity and ready to engage with the world around them. They are brand conscious and loyal, and for them halal consumption is a badge of identity."
VALUES-CONSCIOUS CONSUMERS
"What I see is the emergence of young consumers who are Muslims, but they are more conscious consumers who really relate to values and ethics.
"They are very conscious about the environment. They are very conscious about eating healthy. They are very conscious about peace. Those kinds of consumers are … the next output of the Muslim market."
— Faisal Masood, president of the American Muslim Consumer Consortium (2017)