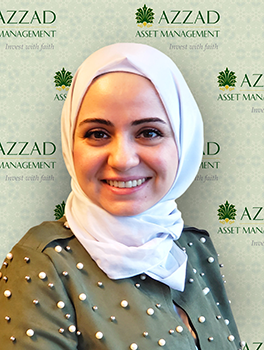 Shaza is an investment analyst at Azzad Asset Management.
She holds a bachelor's degree in business administration (BBA) and a Master of Science degree in finance (MSF) from American University – Washington D.C.
She started her career in finance at Dubai Islamic Bank as a personal finance advisor.
During that time, she discovered her passion for finance, and especially Islamic finance.
She plans to pursue further education for certifications in Islamic finance.
She lives with her husband in D.C. and tries to take advantage of every opportunity to visit new places and gather with friends and family.