by Fatima Iqbal, CFP®
I've always been a planner. My earliest memory of creating a plan was coming home from school in the 2nd grade after a fire escape drill. My family had moved into a new house and I sketched out an escape plan on a sheet of paper, carefully assessing possible emergency scenarios and drawing out primary and back up routes. Some of my escape routes were undoubtedly ambitious (could my little legs really jump out the window?), but having the map taped on the back of the bedroom door meant we were prepared no matter the danger.
In college, I studied Applied Economics and Management and then completed a Masters in Finance. While many of my peers vied for prestigious jobs at top Wall Street firms, I was cautious of careers that would likely entangle me in riba and financial practices that didn't meet my values. At that time, the finance world was starting to take note of social entrepreneurship and the idea that doing good could also align with a profitable bottom line. Socially responsible investing and divestment campaigns were changing the perception of what money could accomplish. My desire to align finance, my values, and the opportunity to do good came to fruition when I joined Azzad Asset Management as the firm's first financial planner in the summer of 2008.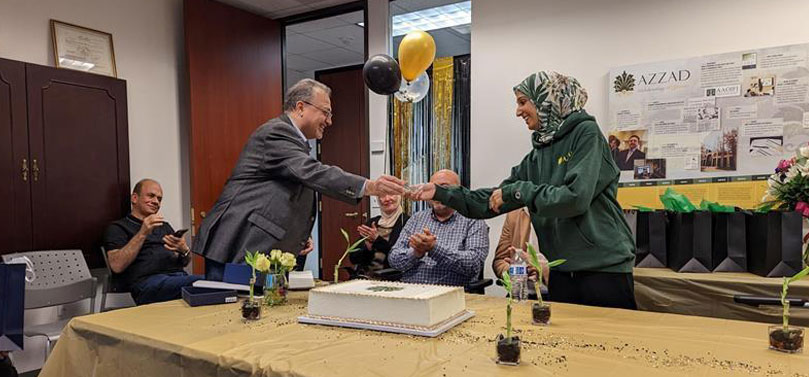 Within my first few months as a financial planner, the economy went through the Great Financial Crisis. Those same Wall Street firms my classmates were vying for were collapsing, and instead, principles of Islamic finance and ethical investing were standing strong. Terms like "short selling" and "Ponzi scheme" were entering the lexicon of many investors for the first time as they tried to make sense of what was happening. The news carried stories of people's life savings in ashes. Yet much like a fire escape route, my role as a financial planner is to prepare a solid financial plan to help clients weather unpredictable yet inevitable storms they will face in their financial lives. I'm proud of the work we accomplished at that time and since–bringing forward innovative solutions like Waqf, halal fixed income, and planned charitable giving that tackle complex problems while honoring Islamic principles.
Today, I get the greatest satisfaction when I see my clients able to benefit themselves, their families, and their communities without having to sacrifice their values. My clients become like family and as they grow older, we work to adapt their plans, meet their changing needs, and help them foresee obstacles they may encounter in the future. We must advise them in the most trying of times, and they trust us to help make financial decisions that may be counter to their intrinsic emotional response. We are tasked with not letting clients get lost in the smoke and distracted by fires around them. We build a plan, evaluate it, and–when needed–adapt.