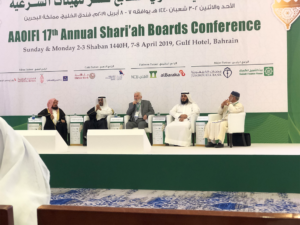 Azzad Asset Management joined senior officials, scholars, and industry leaders in Manama, Kingdom of Bahrain, for an international conference on setting the rules of the Islamic economy organized by the Accounting and Auditing Organization for Islamic Financial Institutions (AAOIFI). Held under the auspices of the Central Bank of Bahrain, the April event featured 33 experts from 16 countries.
AAOIFI member and Azzad President and CEO Bashar Qasem, CSAA, attended the conference on behalf of the company. Azzad is an outspoken advocate of the Seven Tenets of Halal Investing, which incorporate AAOIFI guidelines on investing, purification, and zakah. Mr. Qasem is one of the few Islamic finance professionals in the United States to have earned the Certified Shariah Adviser and Auditor (CSAA) credential from AAOIFI.
AAOIFI has established itself as the leading standard-setting body for the Islamic finance industry since its founding 28 years ago. Through the issuance of its official guidelines, the organization has created an agreed-upon set of rules for the global Islamic economy.
The 17th annual AAOIFI Shariah Boards Conference was convened to tackle the practical application of Islamic financial standards in the global economy. It included sessions whose focus ranged from expanding the current Shariah regulatory regime to sukuk listing in global financial markets.