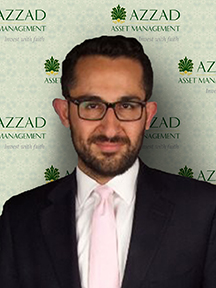 Zubair Khan, CFA®, CFP® is an investment advisor with Azzad Asset Management.
He holds a bachelor's degree from the University of Connecticut and earned a master's in business administration from the University of Hartford.
Zubair is a Chartered Financial Analyst (CFA®) charterholder and CERTIFIED FINANCIAL PLANNER™. He has worked at JP Morgan, HSBC, Merrill Lynch, and TIAA.
Zubair has worked with thousands of families with a wide range of financial needs in the New York City, Boston, and D.C. metro areas.
He has worked with sophisticated finance professionals at respected Wall Street firms, educators planning for retirement, CEOs of Fortune 500 companies, small business owners, and families with complicated financial planning needs.
Zubair enjoys all facets of the advisory business including financial planning, investment analysis, and portfolio management. He has two young sons and a wife who works in the sports apparel industry.
AZZAD-Part-2B-ZKhan_2022